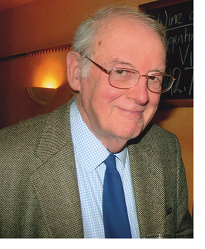 I was born in 1929 in Charlton and spent my early years in Charlton and Blackheath. About to follow the family tradition of starting at Colfe's Grammar School in Lewisham, my education was interrupted by the outbreak of war and I was evacuated to Skinners School in Tunbridge Wells with my older brother.
My father ended up taking on a house his colleague had been renting in Gresham Road, Oxted (now where the library is located) and I finished my education at Oxted County School.
I was much more inclined to the arts than business, but after I finished school, my father persuaded me to get a job in banking, which I dutifully did, aside from a spell in the RAF for my National Service.
I returned reluctantly to banking, before thankfully having the opportunity to work in press relations and corporate writing, which I did for the rest of my working career; from freelance copywriting, journalism and press relations to industrial film production, covering a wide range of topics and encountering some interesting situations and characters along the way.
On retirement in 1993, I became interested in researching my family tree after my father mentioned he had no knowledge of his ancestors as his father had died when he was very young.
After finishing research on all the branches of my family (and various others), I decided to get down to pursuing my first love of fiction and creative writing and with the advent of self-publishing, published my first book, 'Save Our Shop' in 2012, followed by the two children's books – 'Happenings in Hookwood' and 'Granddad Bracey and the Flight to Seven Seas' in 2013 and 2014. Then came the sequel to 'Save Our Shop', entitled 'In The Soup' in 2015; 'The Spy Who Couldn't Count' in 2017 and finally, 'Don't Bank on it Sweetheart' in Dec 2018.
My love of books was firmly set very early on; from devouring schoolboy episodes of Desperate Dan, Billy Bunter & Co and Richmal Crompton's, William in my early youth, I moved up through the ranks of Leslie Charteris, Victor Canning and Nevil Shute, and discovered in the process the excitement of reading such authors as Dick Francis, Simenon, H.E. Bates and E.M. Forster, amongst many others.
However, it wasn't until happened upon a paperback of P.G.Wodehouse in my local bookshop that I finally felt at home. I have been one of his devoted fans ever since.
Aside from writing, I love reading, music and cricket. I live in Limpsfield, in the house my late wife, Jane and I bought in 1972. I am a devoted father of 3 and grandfather to 8!